About Our School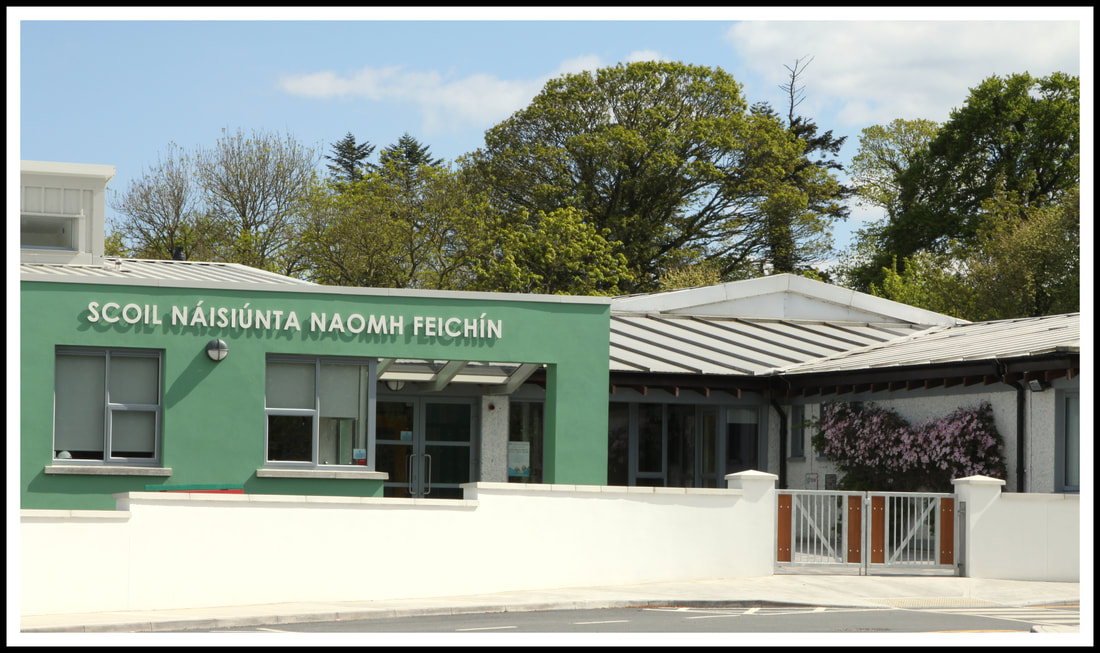 Our School
Scoil Naomh Feichin is a 23 teacher co-educational Catholic primary school
under the patronage of the Archbishop of Armagh. The school is located a short drive from the town of Drogheda in the scenic village of Termonfeckin.
Scoil Naomh Feichín follows the standard curriculum as set down by the Department of Education & Skills. Subjects taught are Mathematics, English, Irish, SESE (Science, History & Geography), SPHE (Social, Personal & Health Education), Arts (Visual Arts, Music & Drama) and Physical Education. As Scoil Naomh Feichín is a school under Catholic patronage all classes follow the Grow in Love and Alive-O Religious Education Programmes.
Catholic Ethos
Scoil Naomh Feichín aims to promote the full and harmonious development of all aspects of the person, intellectual, physical, cultural, moral and spiritual including a living relationship with God and with other people.
Our school models and promotes a philosophy of life inspired by belief in God and in the life, death and resurrection of Jesus Christ. As a Catholic school we provide Religious Education for our pupils in accordance with the doctrines, practices and traditions of the Roman Catholic Church and we promote the formation of the pupils in the Catholic Faith.
If you would like more information about the pastoral life in the parish of Termonfeckin, please click here.
History of Scoil Naomh Feichín
Our school is named after St Fechín who is believed to have been from Collooney in County Sligo. When St Fechín left the west of Ireland he established a monastery at Fore, County Westmeath. He died of the yellow plague in the year 664. We celebrate the feast day of St. Fechín on the 20th of January each year.
For many years Termonfeckin had two separate primary schools, one for girls and one for boys. In 1936 both schools were amalgamated into a combined school which was situated at Yellow Gap. Due to antiquated facilities and lack of space, the old school at Yellow Gap was vacated in 1980 with the completion of the current school building on the Baltray Road. The foundation stone of the new school was blessed by Cardinal Tomás O Fiaich in 1980.
If you would like to read more about the history of education in the parish of Termonfeckin, click here for the website of the Termonfeckin Historical Society.
School Staff
Principal: Mr. Bryan Collins
Deputy Principal: Mrs Margaret Hurley
Mrs Claire McCluskey
Mrs Anne-Marie Cassidy
Mrs Fiona Fahy
Ms Nicola Carolan
Mrs Lauraine Collins
Mrs Ger McManus
Mrs Sinéad Sweeney
Ms Sheena Duffy
Mrs Emma Smith
Mrs Gemma Ryan
Ms Fiona Cartmill
Mrs Fiona McGuinness
Ms Hannah Clayton
Ms Orla Brannigan
Ms Grace Clinton
There are 7 teachers on our supply panel for 2022/23
Hayley McDonnell
Ailbhe Quinn
Jill Donegan
Dean Branigan
Clodagh Lynch
Leah Judge
Eva Cotter
Special Needs Assistants
Mrs Ann Marie Clarke
Mrs Niamh Gorman
Mrs Jeanne Lynch
Mrs Jenny Farrell
Ms Susan Farrell
Secretary: Mrs Diane Kirk
Caretaker: Mr Gavan Fahy
Cleaners: Mrs Patricia Byrne & Mrs Mary Kinsella
Board of Management
Chairperson: Fr Paul Byrne
Secretary: Mr Bryan Collins
Treasurer: Mrs Denise Redmond
Mrs Fiona Fahy
Mrs Deirdre Murphy
Mr Neil Martin
Mrs Catherine Campbell
Mrs Lorraine Leech
Parents Association
Chairperson: Mrs Amanda Duggan
Secretary:
Treasurer: